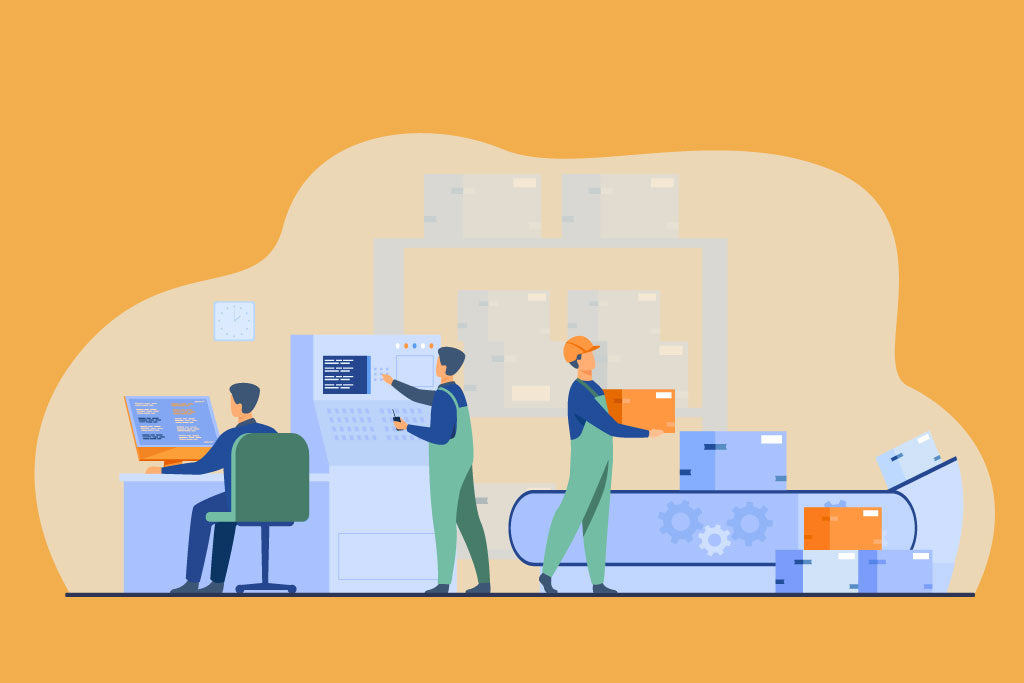 Automate Fulfillment Operations to Save Time and Improve Customer Satisfaction
Oct 28, 2020 by

Maria with Arka
Implementing automated fulfillment is one of the best investments for growing your ecommerce business. Automation helps reduce the labor, shipping, and opportunity costs that are making you less competitive. With recent advances in automation and how easy it is to implement automated tools, ecommerce stores can unlock a new level of scale that used to only be available for large enterprises.
In this post, we'll go into why you need automated fulfillment and how it helps grow your business.
What is Automated Fulfillment?
Automating the fulfillment process means utilizing technology in the form of robots, software, or infrastructure to perform the tasks that need to occur between a customer order and successful delivery.
How Automated Fulfillment Grows Your Business 
Automated fulfillment leads to happier customers. In the ecommerce space, competitors are only one click away, so improving customer loyalty is imperative. Automated fulfillment can enhance the customer's shopping experience by ensuring that the correct product is delivered at the correct time. 
Minimizing friction in the fulfillment process using technology can improve customer satisfaction which will increase retention, reputation, and revenue. In the long run, automated fulfillment builds customer trust, which helps sharpen your competitive edge.
Arka also helps grow your business by streamlining the fulfillment process and providing custom sustainable packaging options. You can improve customer experience by using eye-catching custom shipper boxes and ensuring a memorable unboxing experience.
Make Better Use of Labor & Resources
Automating the fulfillment process is crucial to scaling your business. Think of automation as a way to "outsource" the fulfillment process. It adds value by reducing your opportunity cost. As your order volumes increase, manual fulfillment becomes more and more time-consuming. 
By delegating rote mundane tasks to technology, you and your team can focus your efforts on production and high-leverage tasks like designing new marketing campaigns, negotiating deals, or coming up with product improvements. Investing in automated fulfillment early on will help you cut costs and grow faster. 
Remove Manual Work
Manual order fulfillment has hidden costs beyond just the opportunity costs mentioned above. As order volume increases, human judgment is vulnerable to fatigue and mistakes. Tasks like order verification and shipping label creation may seem rote and mundane, but performing them accurately requires being highly detail-oriented.
Just one mistake with the delivery address or product type can create a lot of unnecessary hassle later on--not to mention creating an unsatisfied customer who is likely to defect to competitors. Automated fulfillment takes human misjudgment out of the equation. This makes operations more accurate and efficient.
Faster Deliver Speeds
Speed is king. Automating fulfillment takes worker travel time away from the cost equation and speeds up product delivery times. Those reduced costs can turn into cheaper delivery fees for customers, incentivizing them to purchase more. Automation can help your business better allocate your labor, equipment, and inventory resources. Streamlining this process can help with order prioritization, to ensure that urgent orders are taken care of first--keeping your promise to your customer. 
Improve Your Supply Chain
The COVID-19 pandemic has increased the need for efficient supply chains. Automation is the solution. Automating fulfillment through the use of robots can ease concerns over worker health, social-distancing, and help companies cut costs in the long run.
On the factory floor, automation can help quickly identify correct packages so you can fulfill your customer orders accurately and efficiently. Automated sorting systems that identify products in warehouses by scanning barcode labels are especially applicable to direct-to-home shipping. You can also read our guide to learn steps to improve Eommerce fulfillment.
3 ways To Automate Ecommerce Fulfillment
Connecting your Ecommerce platforms with your fulfillment operations via automation will do wonders for the productivity, organization, and efficiency of your business. It's the best way to keep tabs on what's going on in each business platform without getting lost among all the moving parts.
1. Integrate Fulfillment and Ecommerce Platforms
Finding one system that helps you organize your business operations across platforms will make your business much more efficient than trying to juggle multiple disparate systems. This is where integration comes in. Integrating order management and your ecommerce site is crucial to ensuring that customer orders are processed seamlessly when you have large order volumes. 
Prompt payment and shipping & address verification is essential to prevent customer defection to more efficient competitors. Integrating your fulfillment and ecommerce platforms can help automate the processing of customer payments and vendor invoices. 
2. Use an ERP System
Enterprise resource planning (ERP) includes all software that helps manage business activities such as accounting, project management, and supply chain operations. Automation ecommerce fulfillment can connect your ERP systems and improve data interconnection and integrity between platforms to prevent data duplication.
Automating ERP workflows decodes and brings order to the chaos from all the data your business generates. In short, ERP systems help ensure that all parts of your business have a standardized understanding of user experience by integrating your employees, processes, and data across platforms.
3. Set Up Automated Shipment Tracking
Automated shipment tracking takes away the need to manually enter data and track packages. Setting up automated shipment tracking makes it much easier to alert customers of shipping developments. Giving your customers accurate estimated delivery time and alerts about delivery status at each checkpoint of the fulfillment process helps strengthen customer trust.
Automate Fulfillment & Supply Chain Operations with Alloy
Fulfillment automation has never been easier thanks to Alloy. Our automation services are designed to help streamline your ecommerce operations.
Built for Ecommerce
Alloy is designed to be a quick and easy way to integrate ecommerce sites. Try taking 5 minutes to automate your ecommerce workflows with Alloy today.
Integrates Your Favorite Ecommerce Apps
Alloy has integrated with popular ecommerce apps like Klaviyo, ReCharge, Gorgias, Postscript, Smile.io, Shippo, and more. We're adding new integrations each week. If you want to see a specific integration, contact us and we'll let you know when we can build the integration.
Pre-Built Workflow Templates
We designed a collection of 100+ workflow templates that your business can easily customize to suit your needs. All it takes is a click of a button--all offered free of charge! 
Conclusion
Automated fulfillment can reclaim your time, cut costs, and boost customer satisfaction today--let technology do all the hard fulfillment work so you can focus on growth. 
Learn more about how Alloy can automate your ecommerce store. 
About the Author:
Sara Du is the CEO and Cofounder of Alloy (YC W20) - the Automation Platform for Ecommerce Stores. Prior to Alloy she was an engineer at Snap and did her undergrad at Harvard.