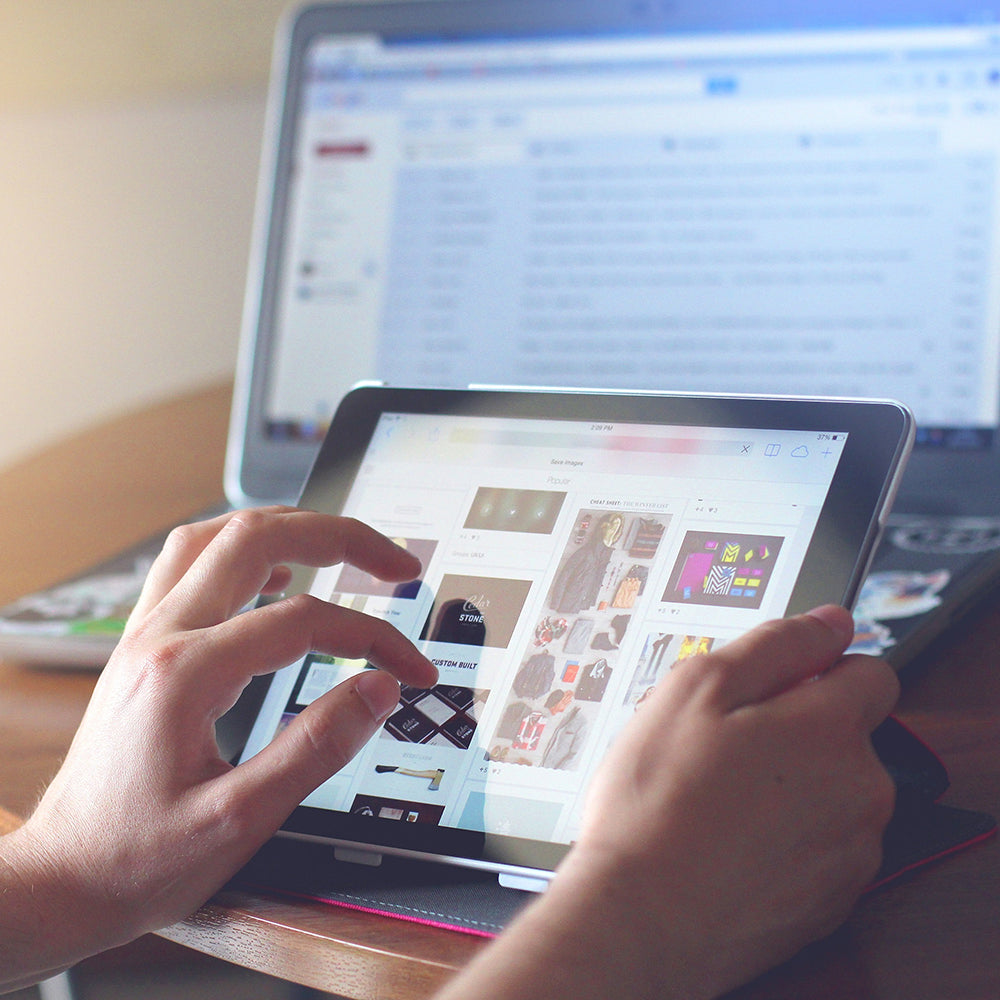 5 Things You Need to Know to Improve eCommerce Business Strategy in 2023
Feb 16, 2022 by

Maria with Arka
By Q3 of 2021, 1.4 million new business applications were filed—with so many new businesses entering the market, it's more important than ever to focus your time and energy on creating a strong eCommerce business strategy. 
And the landscape of eCommerce businesses isn't the only thing that has drastically changed over the last 2 years. There are a million and one new ways to reach your target market, communicate with your existing customers, and convert first-time visitors into repeat customers. 
So where do you even begin? Right here. 
What is an eCommerce Business Strategy?
An eCommerce business strategy is the different tactics that you will use to promote your online store to increase your sales. This can include a myriad of different marketing, sales, and PR efforts that bring more potential customers to your website. 
Your strategy will be based on your business model, knowledge of your industry, trends, consumer research, and brand values. Remember, what works best for one business may not hit the right note for another. Always reflect on how any activity aligns with your business and the brand you've developed. 
While there are no universal truths when it comes to developing your business strategy, these 5 strategies are future-focused and have a proven track record of increasing eCommerce sales. 
Get Personal with Your Customers
In 2023, personalization isn't something that can be left out of your eCommerce business and marketing strategies. Not only do customers appreciate a business that takes the time to show how well they know their customers, but they've also come to expect it. 
Personalized marketing is when businesses tailor their messaging to an individual customer based on the data that the business has collected. This data could include purchase history, interests, website activity, lifestyle information, career details, and even their habits. 
Personalized experiences are not something new. Back in 2018, Epsilon conducted a study and found that 80% of customers are more likely to add to cart and check out when they have received a personalized experience. 
As an eCommerce business, one of the best ways to create a personalized experience for anyone that comes to your store is to leverage personalized product recommendations. When someone is shopping on your website, include an auto-generated list of "Recently Viewed Products" and "Customers Also Liked" or "Popular Right Now".
These two categories allow your customers to have a seamless, personalized experience while shopping. It also helps to upsell customers to items that they may never have seen otherwise, or items that they may have forgotten about while browsing your online store. 
Personalized strategies will help you to build rapport with your customers, help you convert more visitors to customers, build brand advocates for your business, and create return customers. If a business does something that sparks joy and makes a customer happy, they are more likely to purchase from that business again.
Build a Robust SEO Strategy
If you haven't dived into the world of SEO yet, 2023 is your year. SEO is a fundamental strategy for any eCommerce business.
Google processes 5.6 billion searches every day, and it's not too far of a stretch to say that most online experiences start with a search engine. Spending the time and effort to increase your ranking for prominent keywords in your industry is a great way to get more people to visit your website. 
If you're unsure how to start finding the right keywords for your business, Google's Keyword Planner is an excellent tool to help you find search volume and competition for keywords related to your industry. If you're looking to dive deeper into your SEO, some great paid tools can help you build out your strategy. They all offer different features and sit at different price points, but ahrefs, SEMrush, and Ubersuggest are all robust options to help you develop your front and back-end SEO. 
When looking for which keywords your eCommerce business should be targeting, focus on words with a medium to high search volume and a low to medium competition rating. These keywords have a lot of traffic coming to them but will be easier to rank for because the competition for the keyword is on the lower end.
Once you've landed on the keywords you're targeting, use them strategically on your website and create blog posts that support the keywords. Do not keyword stuff! It is important to ensure that you organically use keywords—Google and your readers will know if you've simply taken a keyword and squeezed it into every possible place. 
Voice search is the latest SEO shift that is quickly taking over. In 2021, 30% of all searches occurred without ever using a screen—we can thank Alexa and Siri for that! It's important that your SEO strategy and your larger eCommerce business strategy support voice search. Use your keywords conversationally when you are creating content and start making content—blog posts, videos, listicles, etc.—that answer questions the way someone would say it out loud as opposed to typing. For example, instead of "pink dresses", try something along the lines of "Where can I find casual pink dresses?".
Take Advantage of The Advances in Live Streaming Technology
Live-streamed content is the future of video—live content currently makes up 23% of global viewing time and this grew 13% in 2021 alone. As more and more viewers are shifting to live-streamed content from on-demand content, it's important to learn how you can take advantage of this shift. 
You might not be sure how live content can help your eCommerce business, but with the right tools, you can live-stream your content, engage your audience, and monetize it, all in one place. 
Stage TEN is a live video commerce company that makes shopping a seamless part of your live streams. You can sell your products directly to your viewers in real-time—they can make a purchase without ever leaving the video player. You can plan and produce your show in the Stage TEN Studio or go live and start selling from your phone with the Stage TEN Mobile Studio app. 
With integrated in-show shopping, businesses using Stage TEN have seen their sales double*, conversion rates over 7%, and engagement rates of 70%+.
*Compared to sales from the previous day.
Leverage Social Proof
Leveraging your customers and their experiences is key to building trust with potential customers. Think about the last time you purchased an online business—did you look at reviews of the business or the product? Did those reviews influence your decision? If you said yes to either of those questions, then you're like most consumers.
70% of customers actively search out reviews before they make a purchase and 91% of customers will read at least one review before they make a purchase decision.
Social proof is all about showing new customers that you are trusted by people who have shopped with you in the past. When it comes down to it, reviews are the most effective form of social proof available today. 
If customers are buying your products, but you aren't seeing any reviews, consider sending out an email reminder a week or two after their purchase date. You can also make it worth their time by offering them an exclusive discount for leaving a review—if they are truly happy with your product, the promise of a 10-15% discount on their next purchase may be all they need to spend 5 minutes writing a review. 
Remember, the most a person trusts your brand, the more likely they are to make a purchase. 
Don't Neglect Your Email List
A lot of people think of email as old school and maybe even outdated. But if your eCommerce business strategy doesn't include email marketing, you're leaving sales on the table. 
Having your own email list is an essential part of any business. An email list is your owned audience—it is not dependent on a third party platform like your social media audiences. Even if you use a CRM or email marketing software, all you really need is a spreadsheet of email addresses and an email address. You have full control. 
If you don't already have an email opt-in form on your website, now is the time to add one. Much like your social proof strategy, you can offer a small discount or even a gift with purchase when someone signs up for your mailing list. 
Nurture this list. Send your mailing list content that will help them, make them smile, and make them want to shop on your website. Your newsletters can include blog posts, promotional offers, or even fun, behind-the-scenes anecdotes from your business. But make sure what you send is useful and don't oversell—for every one sales email you send, you should send two emails that are focused on education and/or entertainment. 
Your email strategy should go beyond transactional emails, but don't miss the opportunity to build trust and rapport through your transactional emails—there's no reason your "just shipped" email can't delight your customers. Putting a smile on your customer's face goes a long way to creating a brand advocate. 
There are a lot of strategies that you can use in 2023 to bring new visitors to your eCommerce store and keep them coming back. The items shared here are a great starting point for your eCommerce business strategy and when executed will help you see exponential growth this year. As always, it's integral that you keep an eye on results and make changes to your strategy as needed to maximize your growth in 2023. 
At Arka we create custom boxes that help ecommerce businesses enhance their brand awareness and create an unforgettable unboxing experience! You can check our custom shipping boxes or mailer boxes that help create customer loyalty and an excellent brand image!