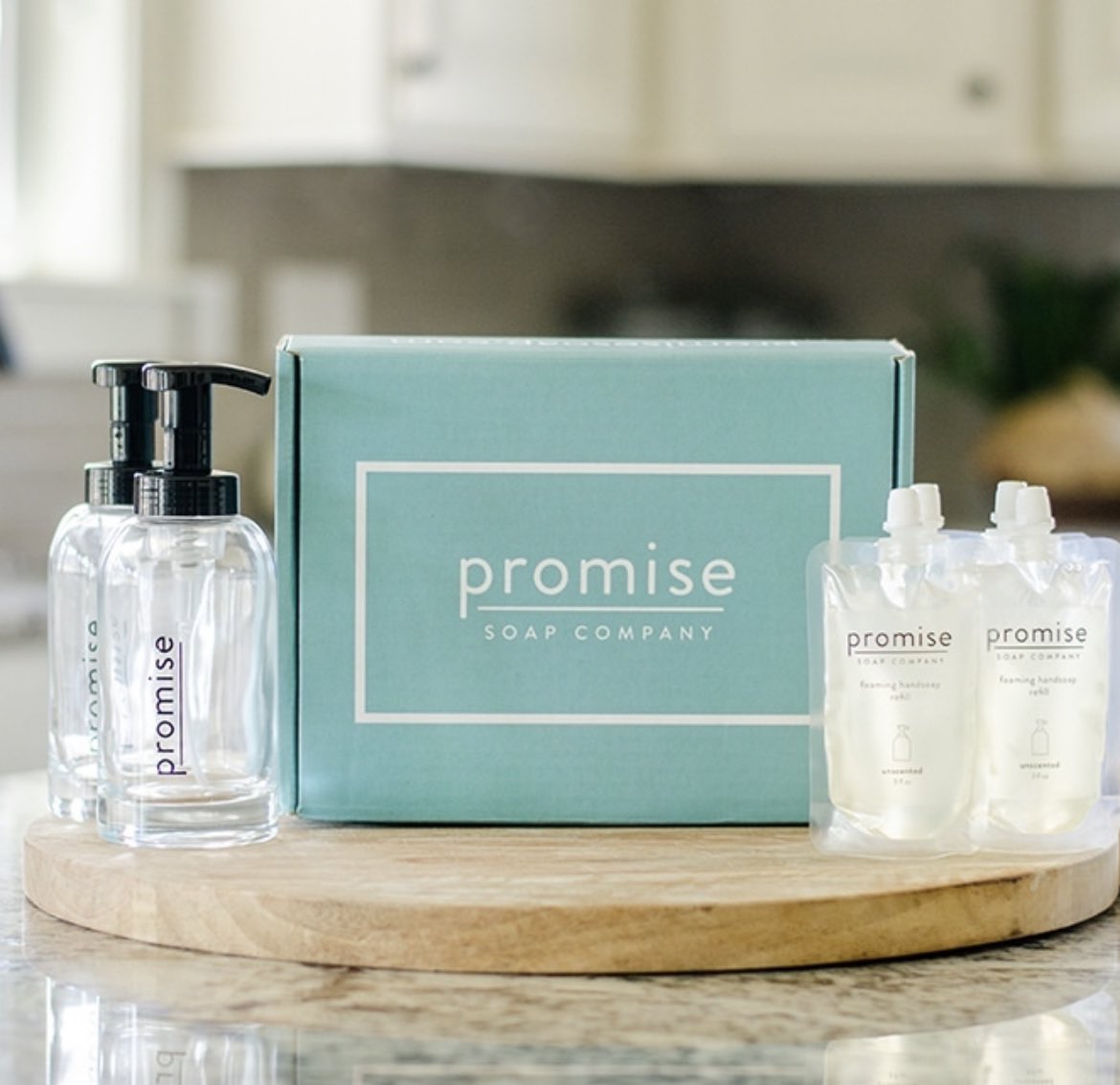 Women in Business: How Arka Supports Female Entrepreneurs with Custom Packaging Solutions
Sep 18, 2023 by

Phillip Akhzar
Jennifer from The Promise Soap Company Shares Her Experience Working with Arka
Before Arka, it wasn't working. We couldn't get our products successfully shipped. Arka swooped in and provided their expertise. It was a wonderful partnership that helped us further our mission. And it was beautiful packaging on top of that. 
The world is facing a major environmental crisis, and one of the biggest contributors is single-use plastic packaging. Every year, millions of tons of plastic end up in landfills and oceans, where decomposing can take hundreds of years.
However, a growing movement of women entrepreneurs is working to create sustainable packaging solutions. These women are passionate about protecting the environment, and they are finding innovative ways to reduce our reliance on single-use plastics.
Last week, we had a chance to sit with Jennifer Offereins, one of the co-founders (female founders) of Promise Soap, an American company that sells organic hand soap. She is one of the leading female entrepreneurs who cares about the environment and invests in sustainable packaging. 
We were thrilled to have a female entrepreneur with us. Arka admires women entrepreneurs and business owners. We learned about her startup and entrepreneurship journey. 
Jennifer was happy to share her experience working with Arka and how it helped elevate her business and overcome the challenges. 
Today, we are going to share her success story and how she made an impact on the environment with Arka's help.  
The Promise Soap Company is one of the women-owned businesses. It emerged during the pandemic when Jennifer felt she needed a different hand soap because they were "wasting so much plastic." 
She started the company with three other friends in 2021 after they all became passionate about creating a more eco-friendly way to wash their hands.
When you are a female-owned small business, you know that every little detail matters. From your product to your marketing, you want everything to be perfect. That is why it is so important to invest in custom packaging.
Packaging can help you make an excellent first impression. Small business owners invest in packaging design to catch customers' attention. If your packaging is eye-catching and professional, it will make a positive impression and encourage customers to learn more about your product.
Also, it makes a significant difference if the product arrives in one piece at your customers' doorstep. With customized packaging, you can give your customers a great unboxing experience and increase customer retention. 
One of Jennifer's most significant challenges when starting Promise Soap was finding suitable packaging. She said, "We didn't officially launch our website until June 2022. We [really] thought that we were going to be launching at the end of 2021. And the reason for the delay was our beautiful box. We had all of our products except for our box." 
She wanted to use sustainable materials to minimize the company's environmental impact, but she also wanted the packaging to be stylish and eye-catching.
 "We were shipping out glass bottles, and they kept breaking." Jennifer reached a stumbling block when her customers received broken glass bottle jars. She was doing all the hard work, but suitable and sustainable packaging for her product was missing. 
After searching for a few months, Jennifer found Arka. "We actually got referred to Arka from Shippo," she told Arka. 
In the online business world, the first impression is everything. And that first impression is often made by the packaging. If your packaging is well-designed, sturdy, and attractive, it will make a positive impression on your customers and increase their satisfaction.
Working with Arka helped Jennifer overcome the biggest challenge in her business. While talking about working with Arka, she said."When we went to Arka, it was [literally] a night and day difference between our experience beforehand. We were able to work through all of our shipping needs really [really] quickly."
In today's competitive marketplace, businesses seek every way to stand out. One of the most effective ways to do this is with custom packaging.
Custom packaging is designed specifically for a particular product or brand. It protects products, promotes the brand, and creates a unique unboxing experience for customers. Moreover, it also helps lower the shipping cost. 
That is exactly what Jennifer was looking for. She says, "We are very intentional with all of the relationships with our business. So, we are looking at that greater impact on the environment. We wanted a packaging solution that would use as little material as possible for environmental impact and shipping cost, and also 100% recyclable, which we advertise."  
Sustainable packaging was a "key aspect of partnering with Arka," as told by Jennifer. 
Since her business centers around the healthcare and wellness of the customers, she needed to be careful about her choice of packaging. 
Jennifer knew a great unboxing experience was vital in forming a sustainable customer relationship. "We know our customers will interact with us online at our website and when they receive their product. And so we [really] wanted the unboxing experience to be a great one."
Arka worked with Jennifer to create a beautiful, sustainable box that protects her soap during shipping. It also provided a great unboxing experience to the customers. As a result, she was able to ship her product safely without damage. 
"They [Arka] were able to work with us to design a beautiful box that, to this date, we have yet to have a broken bottle. So all of our packages are reaching our customers safely. We've got some pictures, and the box is simply beautiful, and the bottles are intact."
Personalized packaging can significantly impact the success of new businesses and help them grow their reach on social media.
When customers receive a package that is personalized to them, they feel valued and appreciated. It can lead to increased customer loyalty and repeat business. Additionally, personalized packaging can create a positive brand image for a business.
The online and offline interaction helped the Promise Soap Company build a lasting relationship with its customers. 
While praising Arka's work, she said, "Arka helped us with that second interaction of when they [customers] get that box for the first time, and it's beautiful on the outside, and then they open it up and everything is in place really neatly, and  they can have that great experience." 
If you ship a package with loose packaging, it will cost more. Customers feel bad about flimsy packaging. Moreover, it takes up too much space while shipping, which increases the carbon footprint. 
A minimalist packaging design reduces the carbon footprint and minimizes shipping costs. 
Shipping is a major cost for e-commerce businesses. It can account for up to 25% of the total cost of an order. 
Jennifer also had the same concern. 
As the Promise Soap Company pays for shipping for most of its orders, it was important for them to find a packaging solution that minimizes the cost. 
"We need it [packaging] to be recyclable, we need it to be compact, we need it to be cost-efficient." 
Arka resolved this issue by providing a minimalist packaging design, so Jennifer did not have to worry about the shipping costs. Our minimalist packaging design and custom inserts helped the Promise Soap Company reduce shipping costs.  
"Arka helped us design our box that can hold [the soap]. There is no extra space for anything else, which I love. We are only using what's needed, and we are only paying for what's needed."
Jennifer was able to overcome the biggest challenge, which was curtailing the launch of her business. 
Talking about her biggest achievement, she said, "We're really thoughtful about who we partner with. We intentionally chose them [supplier] because of the quality of the soap and ingredients. And then also, for every five gallons of soap we purchase from them, they plant a native tree or plant within the area. That's kind of what we're looking for. We're looking for every reach and aspect of our business to give back to the community [somehow]." 
The fact that Jennifer's ideology aligned with Arka's made this partnership a great one. 
She praised her partnership with Arka and said, "Before Arka, it wasn't working. We couldn't get our products successfully shipped. Arka swooped in and provided their expertise, and we could launch. It was a wonderful partnership that helped us further our company's mission. And it was beautiful packaging on top of that".
The custom packaging from Arka has helped Promise Soap in many ways. First, it has helped the company to create a more sustainable brand. The boxes are made from recycled materials and are 100% recyclable, which allows Promise Soap to reduce its environmental impact.
It improved its branding. The boxes are branded with the company's logo and colors, which helps to create a cohesive and professional look. 
The custom packaging has helped Promise Soap to improve its customer experience. The boxes are well-designed and sturdy, which helps to ensure that the soap arrives at the customer's home in perfect condition.
Jennifer is happy with the custom packaging from Arka. She highly recommends Arka to other businesses looking for sustainable and stylish packaging solutions.
Arka is also committed to supporting female entrepreneurs and powerful women. There are successful women entrepreneurs like Jennifer who are making a difference. 
Jennifer's story is just one example of the many women entrepreneurs making a difference in the fight against plastic pollution. These women prove that it is possible to succeed in business while being environmentally conscious.
If you are looking for affordable and accessible custom packaging solutions, Arka is a great option. Arka offers various services and resources that can help you create custom packaging that is both effective and eye-catching.