As a kid, did you ever have the experience of holding off on tearing into a fancy, wrapped present just because of how nice it looked? Destroying that pretty box just didn't seem right, even when you couldn't wait to see what was inside.
As adults, we're often not all that different. It's even more exciting to get a delivery on our doorstep when that package is eye-catching and attention-grabbing.
We can't help being thrilled by visually appealing and customer-focused packaging. That's even more true during the holidays, and customers will stick with brands that understand this.
As you anticipate huge sales during Black Friday and Cyber Monday, don't forget to make sure everything is in place for your packaging so you can use it as a strategy to improve customer lifetime value (LTV).
To help merchants chart a path for this year's holiday shopping season, Shopify held a webinar with Arka, "Product packaging and fulfillment best practices for BFCM", to share packaging best practices.
Have questions about how to prepare your packaging for BFCM? Keep reading!
What is Black Friday and Cyber Monday?
Black Friday, Cyber Monday (BFCM) is arguably the most significant sales weekend of the holiday season in the US. This period, which runs from the Friday after Thanksgiving until that Monday, is an important one for most businesses.
In 2019, Cyber Monday recorded a whopping 9.2 billion dollars on online sales. And in that same year, the Black Friday recorded 7.4 billion dollars in online sales too. It's clear to see how even just this short period can determine most of your business year.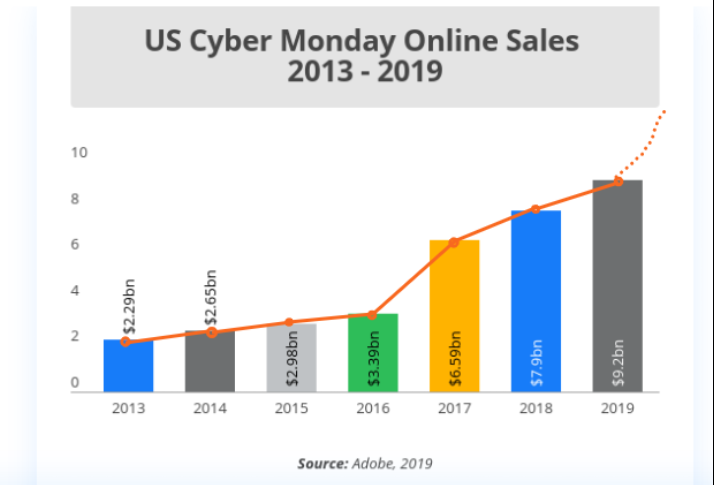 Deloitte forecasts that ecommerce holiday sales in 2020 are expected to generate between $182 billion and $196 billion in North America this season. With shopping centers and retailers closing their doors this Black Friday, we know that this season will be different.
But, according to Shopify, shoppers acquired during BFCM have a lower lifetime value (LTV) than shoppers acquired at any other time of the year. The key reason is BFCM shoppers either make fewer repeat purchases or never purchase from you again. That is why successful holiday strategies must be built around driving loyalty.
With this in mind, we've created this epic article to help you prepare for the holiday season and make the most out of your packaging.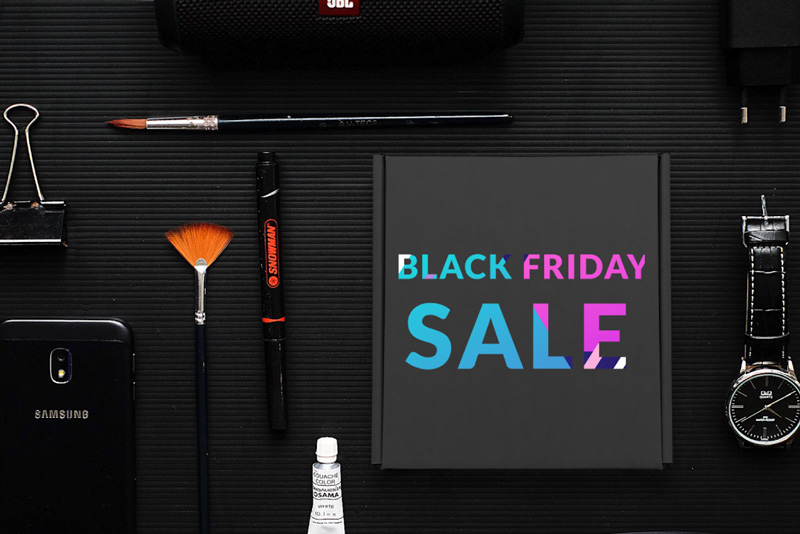 How To Prepare Your Packaging for The Holidays
When it comes to packaging, getting everything right at the last minute is not a good idea. You have to anticipate and plan far ahead. We'll tell you all the necessary preparations you'll need to make for your packaging from start to finish. You can make use of it anytime, anywhere, even outside of the holidays, and still get the same great results.
Start early

Negotiate a one-time rate reduction from suppliers

Purchase more materials upfront

Improve your scheduling

Design seasonal holiday packaging
1. Start Early
Starting early is the first step to success in most areas of life. This is especially true for business people. If you want to be ready for a very busy Black Friday on November 27th, start to prepare for it now.
Like every other business activity, packaging requires time, creativity, and attention. After getting your design artwork ready, the average packaging lead time for digital print is two weeks and, for Flexo/Litho print, is eight weeks.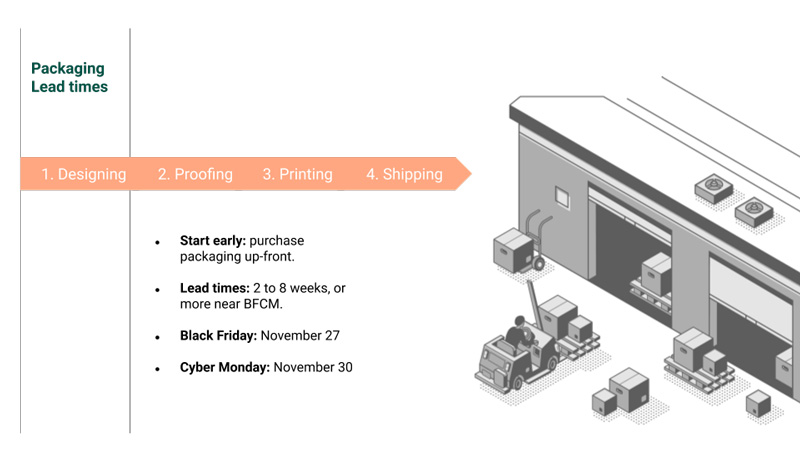 Some businesses hire 3PL companies or fulfillment providers like MasonHub to help monitor and coordinate all the inventory pieces and take care of all fulfillment headaches over the holidays. Donny Salazar, CEO and Founder of MasonHub, says:
"Order a safety stock of +15- 20% for your packaging to account for an influx of orders. The last thing you want to do is run out of packaging when you are beating the sales forecast. At MasonHub, you can set alerts to be notified when you need to reorder components for your packaging, and we work with you to create forecasts to make sure you are covered ahead of time."
Whether you do it yourself or not, you have to get the ball rolling months before the holiday season starts. Here are a few advantages to starting early:
Time To Organize Yourself
It is inefficient to run around at the last minute, trying to figure out your packaging, especially because it is a crucial part of your customer"s experience.
You can start by breaking down the entire packaging process into small tasks. Then you can assign each task to the right person. This way, neither you nor the people involved will be taken by surprise.
Next, give each task an appropriate due date, so it will not conflict with other activities. After this, you can now focus on testing out brilliant packaging ideas.
Time To Test Your Ideas
If you start early, you will be able to find all the information you need to succeed. Waiting until a few weeks before the holiday sales to begin preparing is very risky. If your customers aren't satisfied, they will switch to other stores.
So, start now, try out all the different options you want to, and decide on your packaging look before you start to get into crunch time.
Find Out What Your Customers Want
Creating memorable unboxing experiences depends on a lot of factors. No matter how great your ideas are, you've got it wrong if your customers don't like it. Great packaging must be consumer-focused.
Starting early gives you time to try out a few ideas to understand what your customers prefer. You can even survey some of your customers to gather feedback. This will save you the cost of spending money unnecessarily to please customers when it's not what they're actually looking for.
Improve Supply Chain Arrangements
Preparing a packaging plan early away helps you understand your supply chain. Not many businesses understand this need until it's too late. Making sure your supply chain is at full speed is essential for holiday sales.
Holiday shipping cutoff dates are more important this year than ever before. With concerns about delays in shipping and low stock, customers need clarity. According to ShipperHQ, by showing customers clear, accurate cutoff dates, you'll increase the chance of giving them on-time delivery that results in a satisfying experience to keep them coming back all year round.
When you start early, you can tell where there are loopholes in your supply chain well before you need to start producing—and give yourself time to address them in advance.  Remember, a great unboxing experience is almost useless during the holidays if it is not delivered on time.
Optimize Inventory and Order Management 
This Q4 is destined to be the biggest in ecommerce history. Whether you sell from a Shopify storefront or a marketplace like Amazon or Walmart, you need to ensure your backend system is ready for the order influx. An operations platform like Skubana will provide automation and integration - across every step of the order journey. This supports your packaging strategy by allowing brands to deliver consistent customer experiences at scale across every channel.
A good inventory and order management software will enable operators to manage orders coming in from multiple sales channels and inventory going out of multiple fulfillment points. It facilitates automation between service providers and aggregates data within a single interface.
2. Negotiate One-time Rate Reduction from Suppliers
A rate reduction can have a significant effect on your company's overall costs. Before Black Friday and Cyber Monday, businesses should pay close attention to their inventory management so they can avoid stocking up too much or too little for the holiday sales.
While preparing for packaging, make a list of everything you need from your suppliers. After this, negotiate a rate reduction or discount with them. Below are a few tips:
Set Realistic Objectives
Before you start negotiating, find out what is most important to your business. Plan strategies to ensure those priority factors aren't compromised during the negotiation. Then you can focus on getting your preferred outcome.
However, you'll want to be very realistic with what your goals are. For instance, asking for an unrealistic price reduction and not being willing to compromise might halt the negotiation process. Remember, good negotiation should make both parties happy.
Confirming objectives will also help you identify the key issues involved in the negotiation. If all you want is a one-time reduction in supply, then you should focus on that. This will save you and your supplier time and money.
Find Out More About Your Supplier
Suppliers are stakeholders in your business, and they deserve to be taken seriously. Apart from running background checks on potential suppliers, it is advisable to understand their needs too. Suppliers are also business people who want to make profits just like you.
They have dreams, visions, and organizational objectives, just as you do. Thus, before negotiating, you should take the time to find out more about them. This will make them feel respected and appreciated during the negotiation.
The truth is, no one should go into negotiating without recognizing the needs of the other party. For instance, suppliers easily agree to a one-time reduction when it is also favorable to them. Which is why you need to establish the reasons they should consider the proposal.
Research The Market
The truth is, for everything you need, there are often several vendors offering the same service. Researching the market before negotiating a reduced rate from suppliers is vital. This will help you know the average price, features, and terms of the market's service.
Knowing your vendor's competitors also puts you in a good position to negotiate a rate reduction with them. When you know you can get the same service at a cheaper rate elsewhere, negotiation becomes less complicated.
Letting your vendor know you are aware of the current happenings in their market can be very useful. However, this does not mean you should negotiate for an unrealistic price. Instead, use the information to make them see that you want to partner with them.
Showing your vendor you're concerned about mutual benefits is very crucial. If you want a reduced rate, you don't need to be selfish about it. Find out what is in it for your vendors, too.
Do Not Compromise Communication
A successful business person knows better than to burn bridges with their suppliers. Even if you're not going to take their deal, don't ruin your chances of future negotiations.
Start and end every negotiation well, whether or not it works for you. By being sensitive to issues, you can build a rapport with your suppliers and gain an advantage for future negotiations. In as much as you want to win at every negotiation, don't forget that there's always the possibility for another negotiation.
3. Purchase More Material Upfront
With Black Friday and Cyber Monday approaching, having the right materials in the right quantities is paramount, which means you need a strong inventory control.
Before the holidays start, you should have already sorted out all the materials required for your packaging. This requires proper planning and execution. Here are some of the things to consider when purchasing packaging materials upfront.
Confirm What Materials You Need
You should know what you need before buying packaging materials upfront. If you don't do this, you will most likely get more or less than what you actually need.
Find out if you need a particular brand or model and what features you want. Confirm the quantities that are still available in your warehouse and what you can add. This is key in making this type of purchase since there are many similar materials out there.
Find Out What Purchase Options You Have
Buying materials upfront is a huge business decision. Don't stumble into a decision or rush to make one. 
You might want to start evaluating your purchase options with where and how to purchase the materials you need for your packaging. Find out which brand has the best offer and why buying from them benefits you more than the other options.
Do they offer discounts? Are there credit facilities? How long will it take before the materials get to you? These questions and more should be considered before committing to purchasing material upfront.
Research Associated Costs
It would be best to find out the associated costs of the materials you intend to purchase upfront. Do you have enough facilities or personnel to store and protect the materials?
It is not enough to buy materials upfront. You have to prepare for the impact this type of purchase can have and what you will do after the purchase. Ask yourself what the associated costs of having these materials now, as opposed to later, are.
4. Improve Your Scheduling
Scheduling involves organizing, controlling, and optimizing work and workloads in a production process. It determines the resources, both material and human, you will need.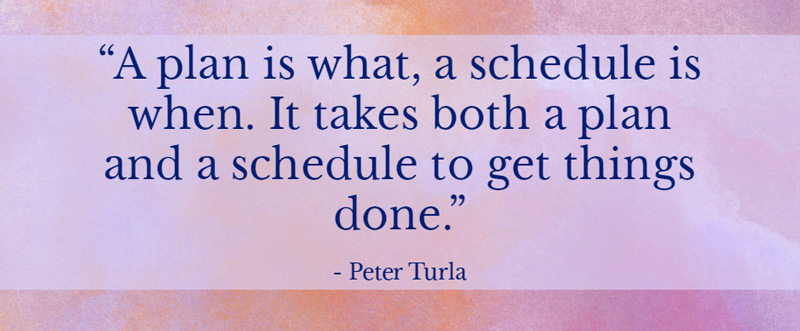 Your packaging schedule lists the activities, deliverables, and important decisions involved in preparing your package. When you optimize your schedule, it saves you time and a lot of effort. Here's a list of techniques you can use to improve your schedule:
Create a brand template for repeated use

Make your schedule easy to understand

Set up a budget and stick to it

Publish your schedule with plenty of lead time

Create room for changes within limits

Ensure your employees work with a to-do list

Make time for evaluations
5. Design Seasonal Holiday Packaging
Your brand should ensure it is well-prepared for the coming holidays. The perfect packaging should reflect the mood and tone of the holiday season. Here are a few things you can try to make your packages stand out this season: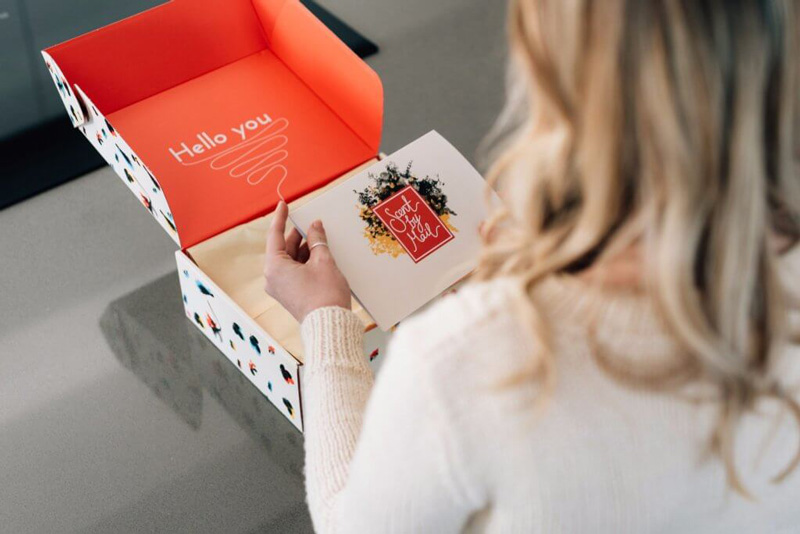 Custom Boxes
Custom-printed boxes are becoming very popular among retailers. It's not in your best interest to pack your present in a boring box during the holidays. Nobody wants to receive their order that way!
If your customers purchase a present, it is your job to make it look like one. If there is a special color associated with the holidays, let your product package reflect it.
Custom boxes are attractive and visually appealing. They will leave a strong and lasting impression on your customers. Arka offers top-quality custom mailer boxes and custom shipper boxes that enhance brand image and create a perfect unboxing experience.
A study conducted in the US showed a positive relationship between custom packaging and customer loyalty. The truth is, customers are likely to buy more from you if they see you know how to create attractive product packaging.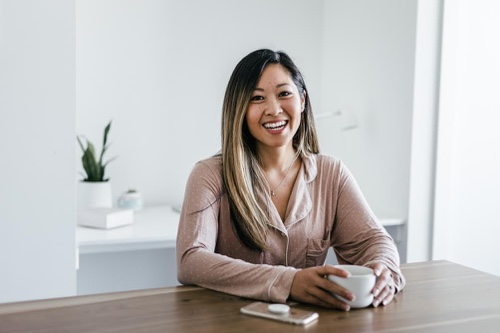 For example, Leslie Wong, co-founder of Burgundy Fox, a premium lingerie subscription box, is using Arka to order delightful and really nice custom boxes. Check out their story and see how they are using branded boxes to change the lingerie industry.
Having a distinctive brand experience is more important than ever. Every touchpoint is a new opportunity! Learn about how to build your brand, stand out in a crowd, and more in this article from our partner Shippo:
Include a Thank You Card
Adding a thank you card to your product package has become one of the hallmarks of great packaging, and this is especially true during the holidays.
All you have to do is add a personal message about the season to your thank you card. Make it personal and simple; let your customers feel unique and valued.
If you have a fulfillment partner, make sure that you communicate ahead of time how you'd like special inserts such as thank you cards to be used. For example, MasonHub, allows clients to set up packaging rules during the onboarding process to ensure tasks will always be performed correctly by its fulfillment center staff. It is also vital to ensure your fulfillment partner has been thoroughly trained on any custom packaging materials to provide a delightful unboxing experience. The more hands-on your fulfillment partners are, the less stress this will be for you.
Add Gifts To It
If you are looking for the right time to give your customers something extra, the holidays are the ideal time. And you don't even necessarily have to spend more since there are lots of discounts on small gifts this time of year.
During the holidays, extra gifts are appreciated, and they remind people they are appreciated. Extending this kind gesture to your customers will definitely have a long term effect on your business.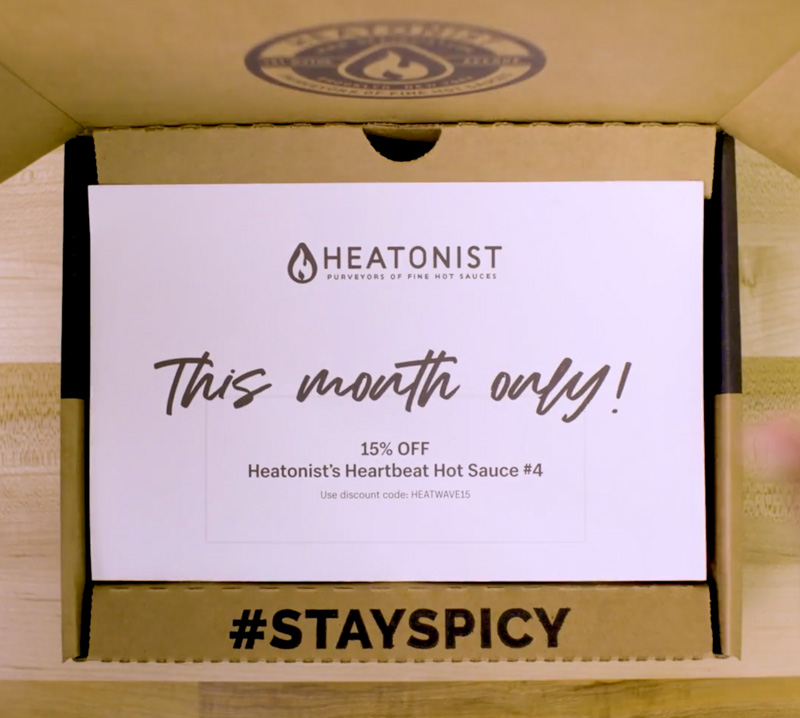 Discount Offers
Holiday sales often come with great discounts offers. And inserting a special discount offer as an additional item in your product shipment can boost future sales.
Cards containing discount codes and extra gifts are also elements that can be handled by some high-touch fulfillment partners. In fact, smart technology also enables them to analyze customer data, so certain extras are automatically added per a customer's profile or actions.
For example, with MasonHub, top customers or those who hit a certain average order value can automatically receive gifts with purchase or a special rebate card. It also drives retention to incentivize your customers to come back and redeem their special offers even after the holidays are over.
Conclusion
Now that you know what to consider when preparing your packaging for the holidays and why it is essential to plan ahead, it's up to you to take that next step of applying and personalizing this advice to your business.
Don't worry. It might seem overwhelming right now. The truth is, it will continue to be if you don't just get started, one step at a time.
Want to learn more about packaging? Check out this course on Shopify Compass: Introduction to Packaging Your Products.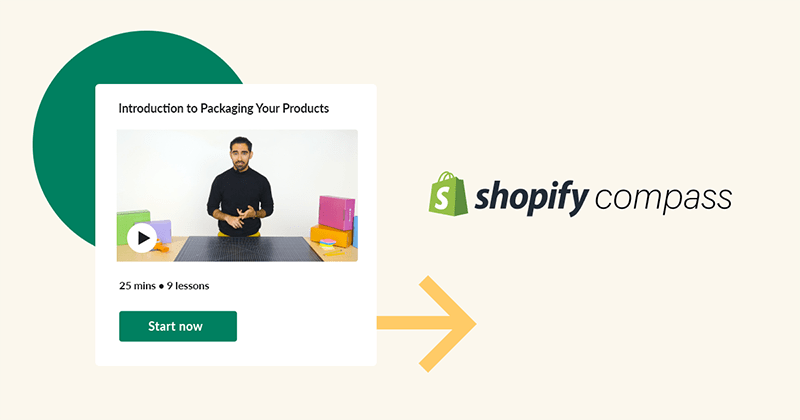 About The Author
Vitor Botega is the Head of Partnerships of Arka with over a decade's experience in digital marketing. Vitor has gathered expertise in multiple industries working with SaaS, ecommerce, Agency, and several digital media platforms.