This post was written in partnership with EasyPost. EasyPost is the simple shipping API, allowing you to automate your logistics to save money, save time, and let you get back to growing your business.

The eCommerce brand experience is not over once a customer has completed check-out. With limited opportunities for consumers to interact with eCommerce brands post-purchase, it is crucial for those companies to look for innovative ways to improve post-purchase branding to increase customer loyalty.
A Shorr Packaging survey finds that returning customers spend 67% more than first-time customers. Finding ways to make new customers into returning customers is one of the best ways to drive business growth.
We've identified three often overlooked branding opportunities that can help improve your customers' experience with your brand to help drive repeat business: branded tracking pages and updates, custom packaging, and an overall shipping experience.
1. Branded Tracking Pages and Updates
Once a customer places an order, it is imperative to get in front of them with communications about that order. Traditionally, carriers control tracking pages, leaving a valuable branding opportunity untapped. By branding the tracking page, your customers are continuously exposed to your brand post-purchase, reinforcing your brand value.
Services like EasyPost tracking allow you to further customize the look and feel of the tracking pages by adding in specific imagery and messaging, giving you opportunities to frequently get in front of customers through webhook implementation.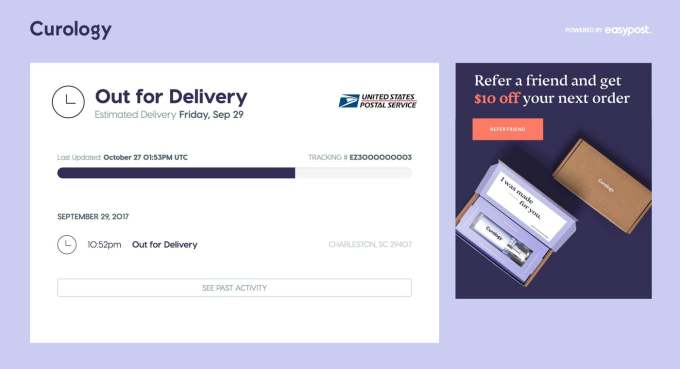 2. Brand Dashboard with Themes
Custom Packaging Outside of your website, the first experience a customer has with your brand is when they see your product on their doorstep. A plain box is easily forgettable, but a custom box that pops with a stylish design will stand out. Pieces like the Arka's custom mailer boxes or product boxes separate your brand from the others through their use of color and innovative design. Using a higher-quality material, a soft touch finish, or embossing on your custom packaging can also set it apart and make your customers feel appreciated. You can also check  custom gift boxes and retail boxes by Arka that enhance customer unboxing experience.
Finding a way to integrate your business or product mission into your packaging can also be extremely valuable, creating a cohesive view of your brand in the mind of the customer. If your products emphasize sustainability, using eco-friendly packaging is one more way to reinforce that commitment to your customers.
3. Overall Shipping Experience
Shipping plays a key role in the customer experience. Customer expectations around fast shipping at a low price are higher than ever, and being able to deliver on that expectation is a key way to drive value for customers. Having the ability to rate shop between carriers—like with the EasyPost rating API—gives you the ability to select the right level of service at the right price for both you and your customer.
There's no reason to miss an opportunity to improve your brand awareness. Stay fresh in your customer's mind with custom packaging from Arka, make memorable tracking pages they will enjoy, and shop around for the best rates using our rating API.
Photos courtesy of Shorr