Every time a sale goes through, you feel like you're on top of the world. You've got some more money in the bank, and all you have to do is fulfill the order and it will be smooth sailing from there.
What you do next, though, can make the difference between having a one-time customer who likes the thing they bought (and doesn't return it) and creating a long-term customer relationship - aka a retained shopper who comes back again and again.
How do you make it happen? Here are 6 key moments in the post-purchase process you can utilize to improve customer retention.
1. Spruce Up Your Order "Thank You" Page 
Of all the pages on an ecommerce website, the "thank you" page that shows up after a purchase is probably the most under-utilized. For sure, you should show all the order information and provide some options for them to keep track of their order, but you can do so much more.
While Amazon might be the corporate bad guy in most ecommerce conversations, the reason they have dominated in so many of their market categories is because they do so many things right. In this case, the order thank you page is one of them.
You can see here that not only do they provide the basic information about my order, but they also recommend one of their other products (Amazon Music). If you scroll further down the page, you would see all the recommendations they have for me based on my current order and past orders and even product page browsing history.
I'd be willing to bet that when you place Amazon orders yourself, you scroll through those suggestions to see if there's anything you should grab while you're "there" and place another quick order.
A bit creepy? Maybe. But the reality is that it works. 


2. Do More with Confirmation Emails
Immediately following the order, you should also be sending an order confirmation email. It gives shoppers that little bit of extra confidence that the order actually went through. I know whenever I've placed an order, and that confirmation has taken a bit to land in my inbox, I start to wonder if something went wrong.
To keep customers care-free and coming back, make sure you send those emails out not only promptly, but also make sure they aren't the most boring emails they've ever received. Too often, those emails are plain text or minimally-customized HTML that look like it could have come from anyone.


Injecting value-adding information into those emails helps keep your brand top of mind in the days after purchase when shoppers go into their email to check on the order.  In the example from Huckberry, having that "Trending Gear" listed can be that extra little reminder to shoppers what else you might have available. Maybe they only bought a gift card for a friend, but now they get a chance to see your incredible wares and come back for a purchase of their own. 
3. Make Shipshape Shipping Notifications 
The order is finally out the door - your customer will want to know. Like the order confirmation email, it's all too easy to make the shipping confirmation dull and easily ignorable. The key with all of these interactions is to make them as personalized as possible so that customers feel like your brand has their best interest in mind - not that you're just trying to get another sale out of them.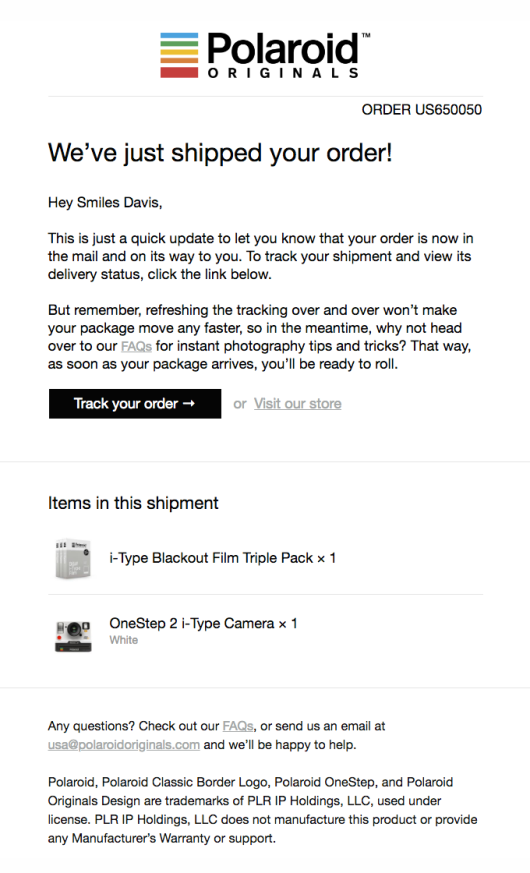 How do you make that connection without being salesy? Polaroid Originals does this perfectly by making the shipping email all about you, the shopper, and how to make your experience using their products even better.
A reminder to check out FAQs, a link to tutorial videos, or info about what should be in the box when it arrives can help build rapport with customers that lasts longer than the "I got new stuff" endorphins.
4. Unboxing 
The pinnacle of the purchase experience arrives when the package itself does. Your customers eagerly open up their order, eyes glistening like Christmas morning as they take in the glorious items that arrived.
Why wouldn't you take that opportunity to make them love your brand as a whole more - not just your products?
Take BOM Gifts, for instance - the custom boxes they've put together are about as on-brand as you can get. Sleek and stylish and ready for gifting, BOM has made the unboxing as exciting as the gifts themselves.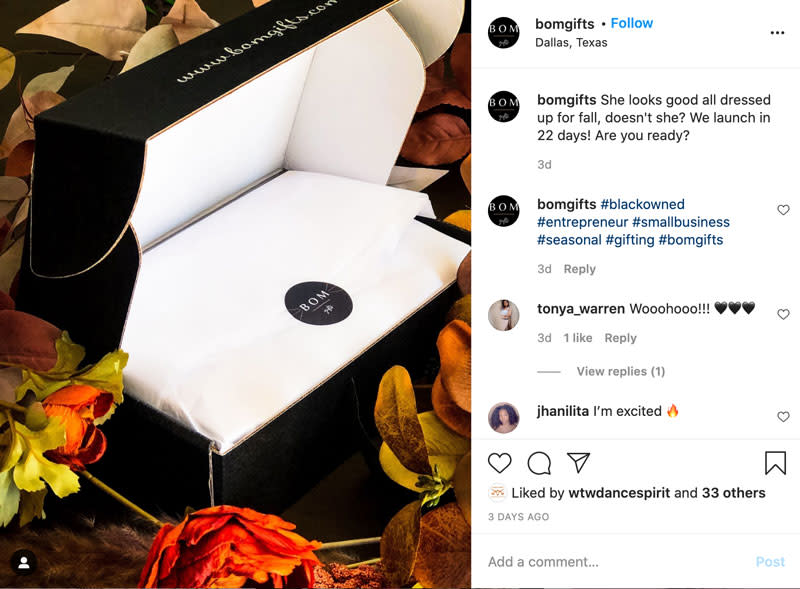 When you make the unboxing as much a part of the brand as your website, social content, and products themselves, you make sure that customers are thinking about your brand for hours, days, and weeks to come! You can make customer unboxing experience even more exciting with custom gift boxes from Arka!
5. Make Creating UGC a No-Brainer
One of the reasons why a great unboxing is so valuable is that it helps make it much easier for customers to want to share what they purchase. Motivating shoppers to make user-generated content for your brand can be a simple but crucial part of getting them to come back to your store. 
Take inkbox, for example. By encouraging customers to tag photos of themselves with the inkbox products they've purchased, inkbox gets awesome content they can share on social and promote on their website.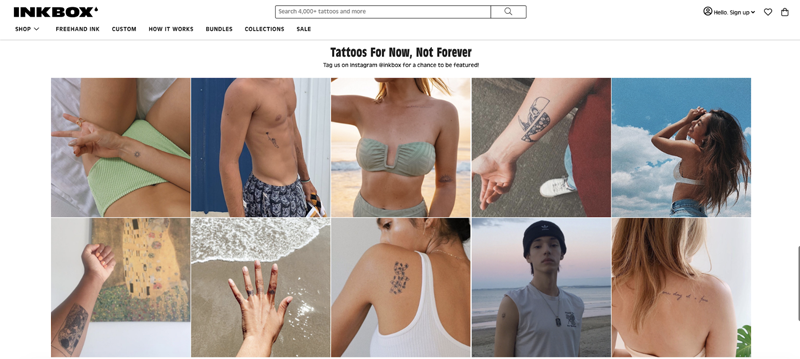 Not only that, but there's a principle of persuasion identified by the famous Robert Cialdini called "consistency," which is essentially the idea that people tend to keep doing something that they've done or shown to have done before.
What does that matter to you? It means that customers who show their social circles that they love your brands and products are more likely to keep using your products - because they've told everyone that they use and love them.
Talk about a winning combination! 
6. Use Rewards To Keep Them Coming Back
By far, one of the absolute best things you can do to increase customer retention is to implement a rewards program. Why? Because it can incorporate nearly every other piece of marketing that you do.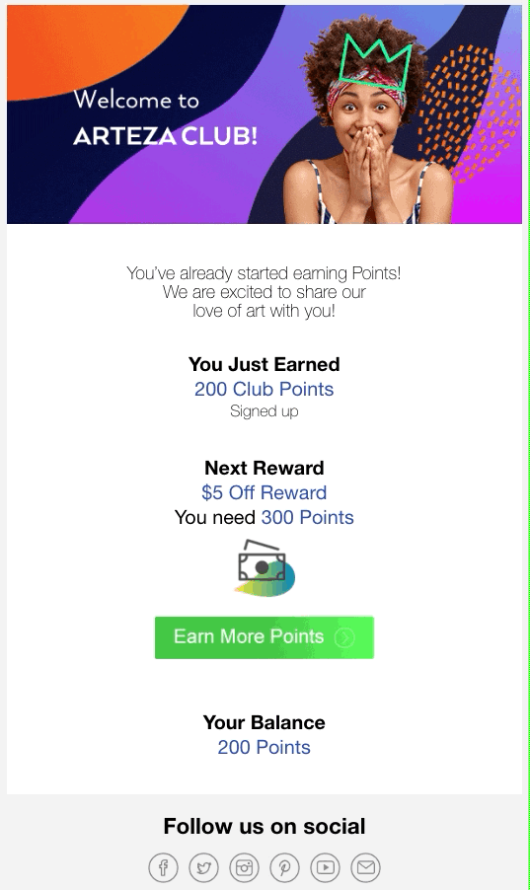 With the right loyalty program software, you can not only reward customers for purchases and social engagement but prompt them to keep in touch with your brand in rewarding ways like through product reviews, UGC creation, newsletter signups, referrals, and so much more.
Once customers have built up a points balance from the earning actions you set up (like placing orders), they will be more likely to come back to your store to spend it, making more purchases and earning more points - and the cycle continues.
Post-Purchase Retention TL:DR
No matter what way you slice it, you need to be focusing on retention and re-engagement to sustainably grow an ecommerce business.
There are dozens of ways you can use the post-purchase process to make it happen. But whether you create the best unboxing experience possible or create an out-of-this-world loyalty program (or anything in between), your customers want to feel like they have a personal relationship with your brand.
That is the thing that will bring them back to your store. Not your awesome logo or even any specific tactic you put in place. Start building post-purchase relationships with customers, and the rest will fall into place.
Tim Peckover is the Content Manager at Smile.io, helping over 30,000 businesses turn one-time shoppers into loyal repeat customers. A proud father of two, when Tim has spare time you can usually find him in a good book accompanied by a strong cup of coffee.