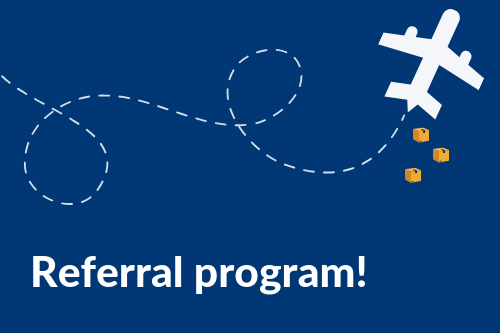 Arka Launches New Referral Campaign to Promote Customer's Brand Stories
Sep 20, 2019 by

Maria with Arka
If you're looking for a packaging expert who offers great customized shipping boxes at a price that won't burn a hole in your pocket, then you're at the right place! 
Arka is here to help you communicate your brand's story through innovative and unique customized shipping boxes. Whether you're looking for 1000 or just 10, Arka is passionate about creating tailor-made shipping boxes for you. 
Why is Custom Packaging Important? 
Custom shipping boxes are the perfect opportunity to build brand awareness and visibility. Each person who comes in contact with your shipping box gets to know your brand! Isn't that a fantastic opportunity to leverage? Use the otherwise dull and boring sides of the packaging box to communicate your brand story and build your brand awareness. For example, think about the Amazon box – a logo and a smile. Even without knowing what is there inside, you know that Amazon is a trusted site to purchase quality products.
Use the blank space of your shipping box with your brand color, logo, or brand message. It's an open marketing canvass that can help you build your brand loyalty. You can even use your shipping boxes to communicate how to reorder your product, contact details, and exchange details, including return policy.
The unboxing experience is real and gaining popularity. Look at the number of unboxing videos on YouTube, and you will know what we mean. A great unboxing experience has the potential to turn a one-time customer into a returning customer. Plus, it is more likely that a customer will share their unboxing experience on Social Media if it's genuinely special!
Why Choose Arka Custom Shipping Boxes? 
If you have always shied away from custom shipping boxes because of pricing, let us tell you that you can still have amazing custom shipping boxes within your budget. At Arka, we make it happen for all our customers - we're just as passionate about sharing your brand's story as you are.
Arka builds eco-friendly shipping boxes that can be customized any way you want. We source all recyclable materials for our custom-made boxes, and practice certified clean processes at our facilities.
We're passionate about all of our customers, and understand that not every business has the same requirements or budget. Hence, we are proud to offer the lowest minimums in the best industry prices.
We are perfectionists. We love creating nothing but just flawless boxes for you. Once you place an order, you get a dedicated dieline designer to make sure your designs are 100% ready for printing.
All our boxes are proudly made in the USA. All boxes are sourced and manufactured in the USA to help you ship your products globally.
You get the best pricing in the industry - that includes beating Uline.
Arka gives you the complete freedom to do your designing at no extra cost! All its prices include 100% exterior price. Oh, and did we mention, you can change your design anytime you want - with no additional cost. 
We are known for our super-fast turnaround time. Once you approve your design, you can have the printed boxes in as little as ten days! You can check our custom mailer boxes and retail boxes too!
Referral Campaign Details 
Arka is now offering a new referral camping to promote our customers' brand stories. You can now tag a friend along and get 10% of their order in Arka credit which can be used on your next order. 
All you need to do is log in and go to your account page. There you'll find a unique link that loops back sales to you. The friend you refer gets 10% off their first over. So, it's a win-win situation for all! 
Grab the offer, before it's gone!