The biggest challenge today, no matter what domain you're in, is standing out as a brand.
Do it right, and you'll find customers lining up to buy your product. Do it wrong, and you'll see way too much of your product gathering dust in your store or warehouse.
And while you may have a lot of ideas about what your design should look like, hiring a professional graphic designer can give your brand the edge it needs. The challenge, however, is in finding a good one.
So, here's the lowdown on all you need to know about finding a skilled graphic designer who will make your brand shine.
1. Start with a Design Brief
The first thing you need to be clear on is what you want your design to represent. This doesn't mean knowing exactly how your design should look but is more about knowing your brand well and what you want your design to aspire.
Come up with a design brief that will clearly tell your graphic designer:
All about your brand - This includes everything from what your brand values are to what your product/service is. What particular quality makes your business stand out? Incorporate that into your packaging design.
Target Market - Being as specific as possible with this can go a long way in helping the graphic designer come up with a design that resonates with the right audience. Find the color schemes and designs you believe would best delight your audience.
Competitors -This will help them understand your industry better, so they can help your brand stand out from the crowd.
Goals - For instance, identify if you want to use the design just to grab eyeballs or increase sales either via blatant advertising or subtlety.
Deadline - Mentioning this is crucial for various stages of the design process to be fulfilled on time.
2. Evaluate Prospective Graphic Designers
Once you have your brief in place, you'll need to evaluate potential designers who can work with you to come up with the perfect design for your brand.
Look through portfolios and work of several graphic designers and evaluate their experience and design style before choosing one.
You can take a look at these sites to review portfolios of graphic designers.
Behance – Talented designers, brilliant search functionality
This platform allows you to view the work of extremely skilled designers based on the fields they specialize in. It also gives you the option to narrow your search down with specific details like, say, packaging themes.
Dribbble – Best designers, excellent filtering
Another platform that provides you access to the best of the best.
Dribbble can help you look at portfolios of not just individual designers but also design teams. It allows you to search for the most suitable ones based on the skills you need so you can find exactly the type of designer you are looking for.
3. Find Graphic Designers for Your Branding Needs
a. Crowdsourcing websites
If you're looking for a one-stop destination to find a host of designers; crowdsourcing websites are where you need to head. Once you upload your design brief and other relevant information, you can sit back and watch the magic happen.
Graphic designers from all over the world compete to win your project. Once the deadline is up, you can review and decide which designer you feel best fits your needs, and employ them for a one-time project, or contract them.
Crowdsourcing is a great way to get your design done cost-effectively while having a number of options. However, it tends to be time-consuming because you need to review the work of several graphic designers to arrive at the one you want. It's also hard to establish a long- standing relationship with a designer you can trust.
Here are some popular crowdsourcing websites for you to choose from.
99designs – Host of graphic designers for any project and budget
99designs is an ideal option if you seek a designer who is most suited for you, based on your project and budget. Once you set up your brief, relevant designers compete to land your project with their ideas. The site also has a Designer Search option that helps you find designers based on your style and industry.
DesignCrowd – Need-based graphic designer selection, budget-friendly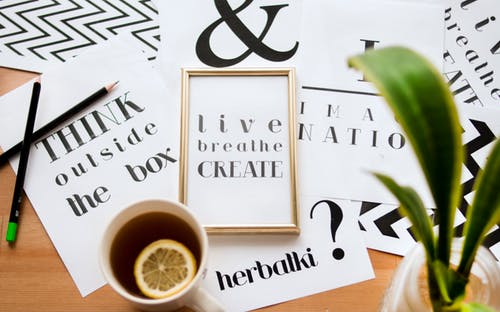 This site is great if you're looking for designers based on what you need to be designed like, say, your logo or packaging. You don't need to worry about shelling out big bucks either, as designers pitch their ideas to you on a minimal budget. Then, you can pick the one you like best. In the event that you don't like any, you get all your money back. Swell, right?
b. Freelance networking platforms
One thing's for sure –there certainly isn't a dearth of freelance graphic designers today. Finding one you can trust, however, is a huge challenge. There's also the vast difference in quality from one to the next – ranging from brilliant to horrible.
Here are a few popular freelancing network platforms you can try.
Upwork – Choices aplenty with information on past work and reviews
This platform allows you to post your project and skill requirements, which can be viewed by freelancers , who will then submit bids. As you receive bids, you will be able to view the profiles of those freelancers with details like client ratings and
portfolios.You can then review all bids and pick the graphic designer who suits your needs the best.
Fiverr – Affordable and suitable for small projects
Fiverr is an excellent platform if you're on a shoestring budget. While it's not ideal for large projects, you can use Fiverr to find highly affordable graphic designers to design logos and graphics.
Why Arka
Seeking custom packaging that will give your branding efforts the boost it needs? Try Arka! We offer the best packaging services that will make your brand stand out at highly competitive prices.
You can order as few as ten shipping boxes and have them designed with our top-notch 3D design tool! You can even share your dieline with us and wait for a creative surprise to reach you! You can also check our custom product boxes and retail boxes, that ensure excellent unboxing experience.
One thing's for sure – we'll certainly have you coming back to us considering our unparalleled service and support throughout the design and order process.
So, what are you waiting for? Get in touch with us now, and our team will be happy to help you with a custom quote.