Every touchpoint you have with a customer matters. From when they discover your brand to the moment they receive a purchase, every experience should feel different than if they purchased from another seller (and ideally better). But why does it matter and how can you create a unique experience every step along the way? Let's dive deeper into both of those questions. 
Why is Branding Important?
As the popularity of e-commerce increases, so do the number of sellers. The options people have to purchase products are nearly overwhelming. What is it that makes them choose one seller over another for similar products, particularly if the price is also similar? Reviews can be a differentiating factor. People also purchase from brands they identify with--brands they feel "get" them. Customers get this feeling most often when they feel a brand is authentic and real.
...what the brand has to say about itself and its products is of little to no importance to this generation. What does work, however, is delivering authentic and quality experiences every time the customer has an interaction with your brand, no matter where the encounter happens. Whether it's in-store, online, or on the phone with customer service, proving that customers are at the heart of everything the company does will keep them coming back for more.
Let's look at some opportunities to be authentic, real, and create customer loyalty through a consistent branded experience along every touchpoint.
How To Brand The Entire Customer Journey
Your customers' journeys are full of touch points where you can solidify your relationship with them. From small gestures to grand unboxing experiences, you need to be thinking about customer delight and cementing loyalty that elicits repeat business. Some of these may require more time investment, while others can be automated and set on autopilot through software. 
Email Communications
Every email you send should sound like it couldn't have come from any other company, and feel like it was written for that customer in particular. Email personalization, customer segmentation, and branded email templates create cohesive communications to your customers. 
Try to use the same or similar colors, fonts, and graphics across your website and emails. This helps your customers know they're in the right place after they click your calls-to-action. Imagine seeing a sign on the outside of a restaurant then seeing completely different signage after you walk in. You might think you walked into the wrong door. The same goes with your brand cohesion in email communications.
The Shipping Experience
Many people don't think much about how the shipping experience can be personalized, but there is a huge opportunity to really build your customer relationship here. Customers will often receive order confirmation emails, shipment/delivery confirmation emails, packing slips in their packages, and possibly welcome emails if they are new customers. All of these present an opportunity to introduce your brand personality. Below is an example of a company that didn't take advantage of this opportunity.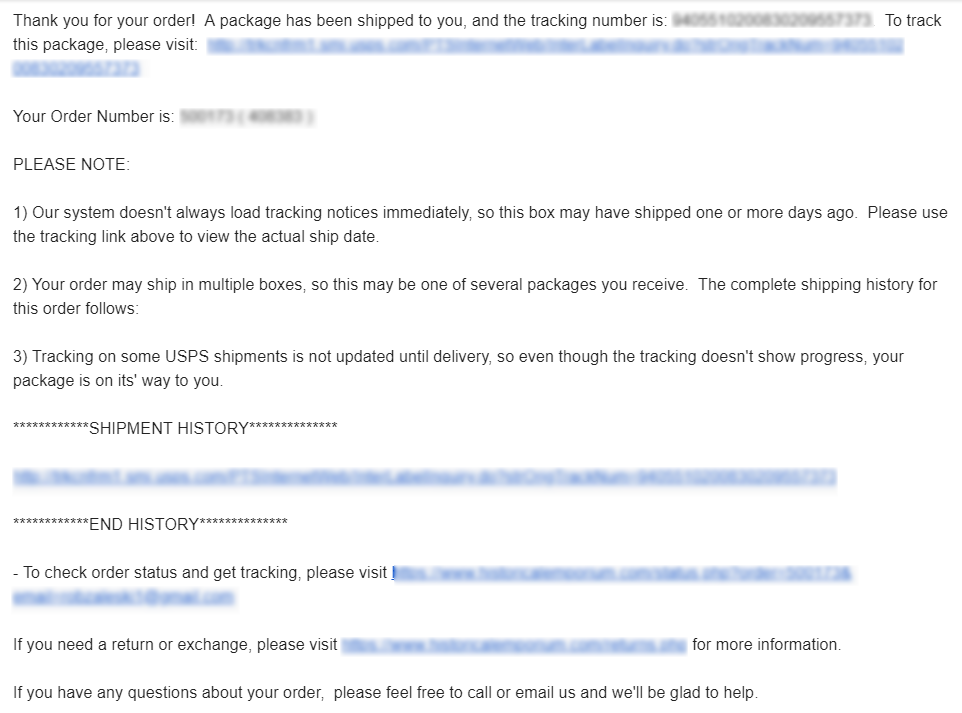 Is it informative? Sure. Is it compelling? No. Could it have come from literally any company? Yep. This actually came from a company that could have had so much fun putting together this email and really compelled me to do something, anything. Alas, they did not.
Take the below video from Biobox Labs as a great opportunity. On a packing slip, you could say something like "Visit our Instagram account at [short link directly to the post] to see how packages like this come together for you. Then, share your own unboxing experience!
This feels personal and is honestly kind of cool. It adds a human element to the process of purchasing products and humanizes the brand. It can also encourage more social followers, which in turn offers up more customer touchpoints to strengthen your relationship with customers.
The Unboxing Experience
When you employ the services of a company like Arka, you can send out packages that are uniquely you. What is more exciting: Getting a generic brown box in the mail, or something fun and exciting that says "Hey! You know what's in here, don't you?" 
There's a reason unboxing videos online are a thing and a reason why millions of people will watch them. It isn't always just about the personality of the YouTube influencer doing the unboxing. If that experience from the brand is fun, unique, different, or surprising, the social sharing practically creates itself.
An example of an e-commerce merchant who does all of the above things well is Chubbies. Their email communications are uniquely them (including a "the weekend has arrived" email that will recommend cool things to do). Their unboxing experience is unquestionably their own, and they'll often include what I consider to be frame-able artwork like below. 
Who else do you buy from that would send you a printed piece of cardstock artwork featuring a sasquatch with an armful of pineapples? Pretty much no one. That's why I felt compelled to share, and that leads us to…
Social Proof
People look to friends, family, and complete strangers on the internet to learn about products and services. Consumer trust in reviews and feedback from others continues to dominate purchase decisions, as well as customer loyalty. So if other people can say it better than you, you might as well empower them to do so. 
Some commentators have hypothesized that this abundance of social proof is one reason why millennials are so loyal to brands -- it's easier to trust your friends (or social-media influencers) than it is to trust traditional advertising.
Every packing slip, every delivery confirmation, and every follow-up email is an opportunity to encourage your customers to share their experience with your brand. When you do, these customers become an extension of your brand. While it can be a little scary relinquishing this share of voice, those who are not familiar with your company are listening to those other people who've purchased from you before. They take their word over yours, so it doesn't hurt to encourage happy customers to share their experiences. You can even ask to feature this user-generated content, which benefits both you and the creator.
Arka can help you brand your physical experience. Arka offers top-notch packaging options like custom shipper boxes or custom mailer boxes. They have solutions for any niche: for example you can also check their custom shoe boxes!
ShippingEasy can help you brand the rest. Our robust shipping platform also includes an email marketing solution that puts your order and customer data to work to create personalized experiences for your customers. Customize confirmation emails and packing slips, add personalized information too, all automated.
Meet the writer!
Rob Zaleski
Rob is the Digital Content and Brand Manager for ShippingEasy, a shipping, email marketing, and inventory management platform for e-commerce merchants. ShippingEasy saves merchants time, offers the best shipping rates, and puts order data to work to streamline inventory and email, all in a single platform.