The most beautiful moment of any ecommerce customer journey? Customers successfully receiving their orders on time, opening the packaging, and finally getting to hold your physical product in their hands. This article will show you how you can use chat marketing to turn this happiest of moments into photo reviews for your store.
The unboxing experience is an important moment for both your customer and your brand. You shouldn't let this final touchpoint go to waste. Because happy customers not only become recurring customers, they also help attract new ones. 
How? By building on the fact that social proof helps you make more sales. Especially if this social proof uses authentic visual cues, like customer photo reviews, to build trust. 
Using the customer unboxing touchpoint to prompt happy customers to leave great photo reviews is easy. The strategy we're looking into today uses a combination of QR codes and chat marketing to automate gathering photo reviews while opening up a direct channel for support at the same time. 
This article will cover: 
The definition of chat marketing

Why photo reviews drive more sales

How you can create your first photo review campaign

Making the most of packaging inserts

Printing chat marketing QR codes on custom packaging

How to sync photo review data with other tools
Let's dive right in.
What is Chat Marketing? 
Chat marketing or conversational marketing means using chat conversations for brand-customer interaction to create personalized, one-on-one experiences. There's considerable overlap, here, with conversational commerce, which is using chat to sell your products.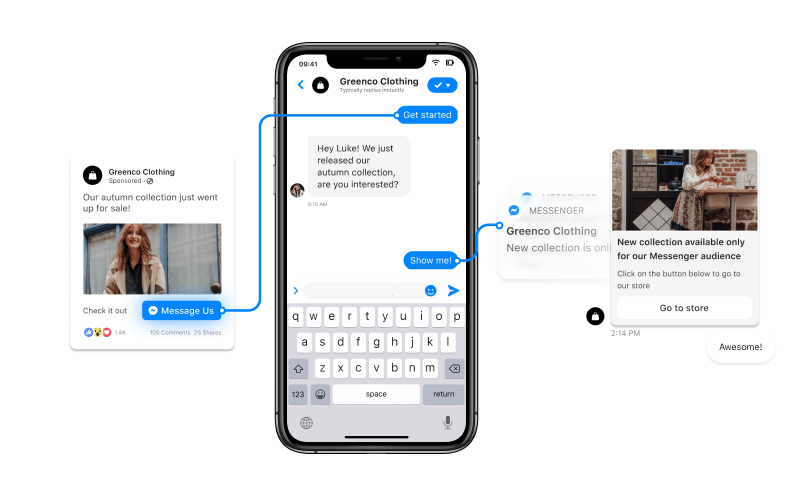 An example of chat marketing.
When it comes to how effective engagement with your customers on chat can be for your business, the numbers don't lie:  
61%

of people say messaging is the easiest, most convenient way to contact a business

63%

of people across generations prefer to message than call or email

More than 1 in 2

people say messaging a business makes them feel more personally connected to a brand
Your customers are spending more time on messaging apps than they do on any other platform online. You should find your customers where they spend most of their time, then create meaningful interactions, build your brand, and gather valuable user-generated content - like photo reviews - in the process. 
When it comes to ROI, chat also outperforms email at every benchmark, with open rates often averaging at 80% and up. 
Handling one-on-one conversations manually can put quite a strain on your business. Luckily, there's a lot you can automate when it comes to chat marketing. Especially on the world's most popular messaging apps: WhatsApp, Messenger, and Instagram DM. 
Where WhatsApp is currently very limited in the automation it allows, you can build entire customer journeys on Messenger, with Instagram DM soon following as it's currently being integrated into the Messenger infrastructure. 
But before we show you how you can automate gathering photo reviews on a chat app like Messenger, let's take a look at why showing photo reviews helps you sell more of your products and grow your business.
Why Do Photo Reviews Drive More Sales?
The keyword here is consensus. One of Robert Cialdini's principles of persuasion, the principle of consensus shows that people, especially when uncertain, look to other people's actions and behaviors to inform their decisions. 
How does this translate into reviews driving more sales? When people are unsure whether to buy your products, reviews are the social proof that can tip the balance and persuade them to make a purchase. 
Here's a recent study that shows how product reviews are essential to persuading potential customers: 
Consumers are

124%

likelier to buy a product from a smartphone after reading a positive review

90%

of consumers want to read between

5-10

product reviews before gaining trust about a brand

Online product reviews yield an average sales uplift of

18%
What's more: adding authentic, user-generated photos to those reviews provides the visual cues consumers need to trust you even more. As a matter of fact, testimonials with photos are much more effective at being remembered by your store visitors.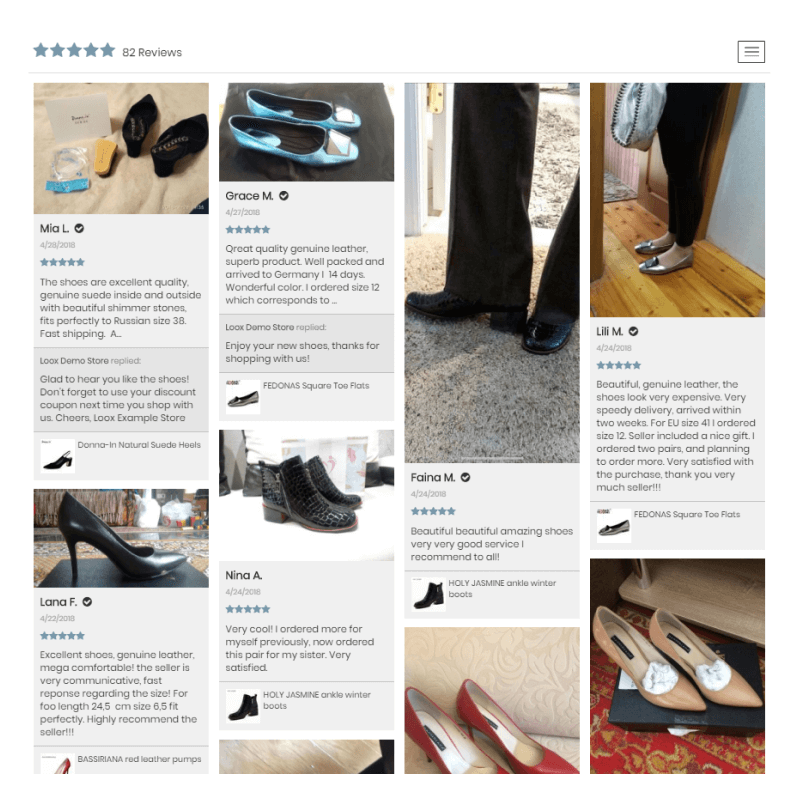 Photo reviews showcased on an online store. 
For Shopify store owners, there are a bunch of tools available to showcase user-generated photo reviews on your store, like Yotpo, Loox, and Fera.ai. 
The hard part, of course, is getting people to leave photo reviews in the first place. Let's take a look at creating your first photo review chat marketing campaign.
You may also like: The Effects Of Packaging On Consumers' Buying Decisions
How to Create First Photo Review Campaign in Chat
Getting started. Setting up a photo review campaign is done in minutes using a tool like ShopPop. They offer a photo review template you can use to get started quickly. In an automated chat conversation, this template:  
Uses open-ended questions to ask for a written review

Lets people rate the product using quick reply buttons

Asks people to take a picture of their unboxed product and upload it

Saves all these answers to custom fields linked to the user's profile

Opens up a direct channel for support questions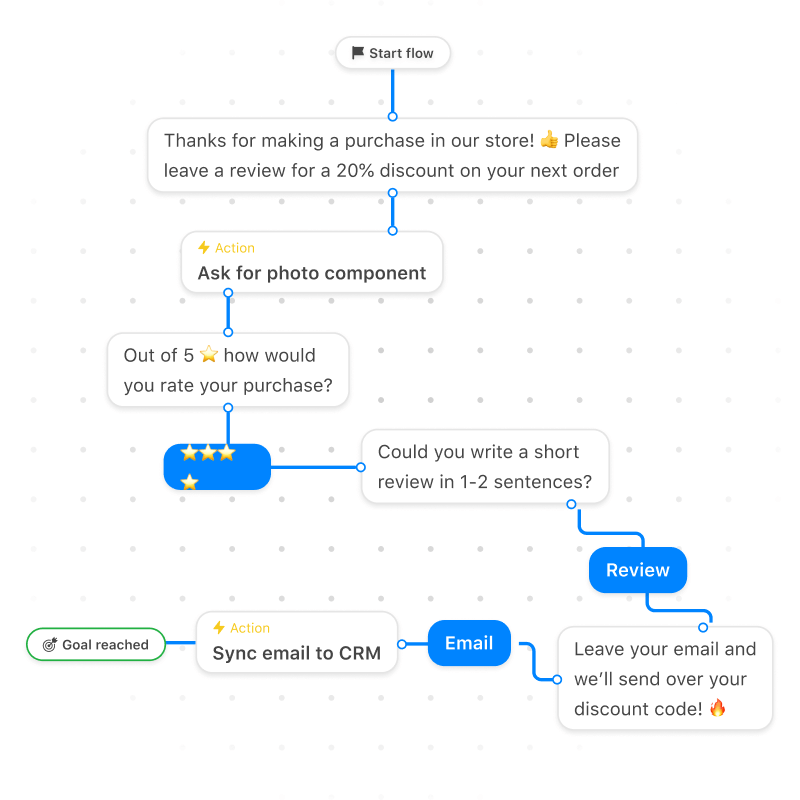 A photo review campaign workflow visualized.
If you prefer to keep it short and simple, you could always choose to leave out the photo and/or rating parts of this template and only ask customers to write a short review.
User experience. People triggering this conversation flow will follow the above workflow step by step. Their answers are saved in custom fields connected to their user-profiles and can be synced or exported to your CRM or social proof platforms to be showcased on your store. Here's what the experience looks like: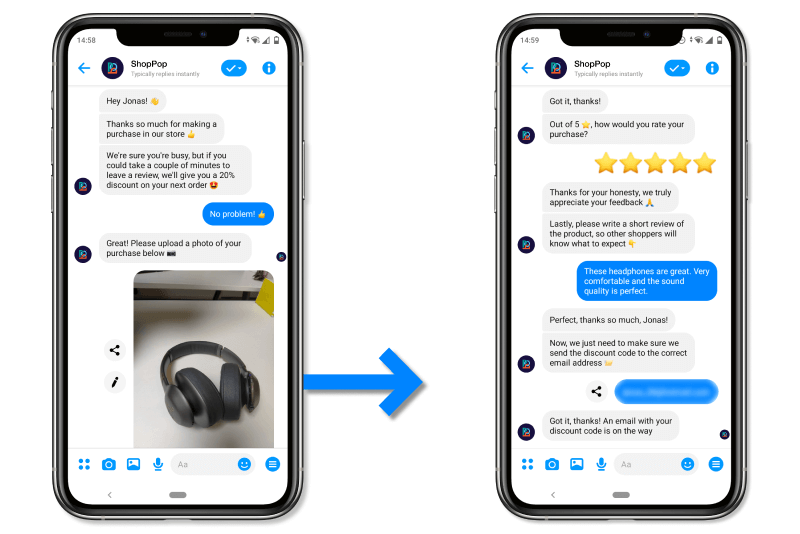 A photo review chat flow in action.
Sharing your campaign. Once you've set up the chat flow, you can copy and paste a direct link to this automated conversation. Anyone who follows this link is taken straight to their Messenger app and triggers the conversation flow.
Share this link directly or generate a (branded) QR code for the best user experience. Follow this direct link to the photo review template or scan the QR code below to try it yourself: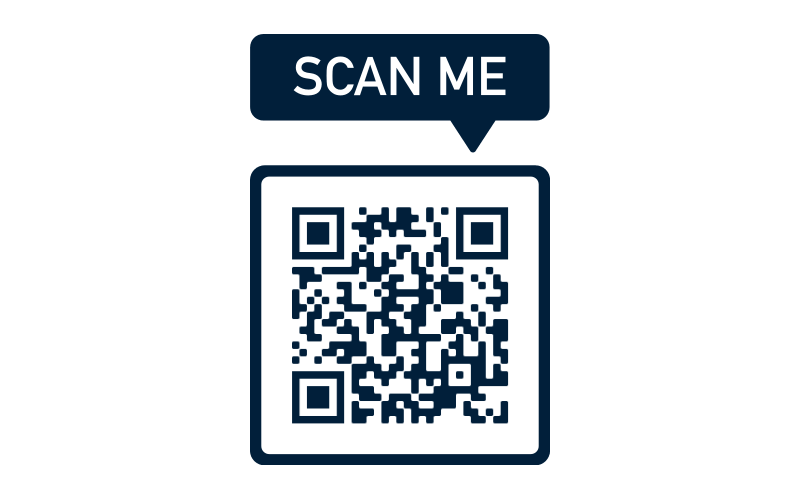 Scan the QR code to preview the photo review template.
Making The Most of Packaging Inserts 
One way to distribute your photo review campaign is by using packaging inserts. Packaging inserts are low-cost additions to your packaging like flyers, stickers, small gifts, or discount offers. These are highly targeted, great for branding, inspiring customer loyalty, and perfect for cross-selling.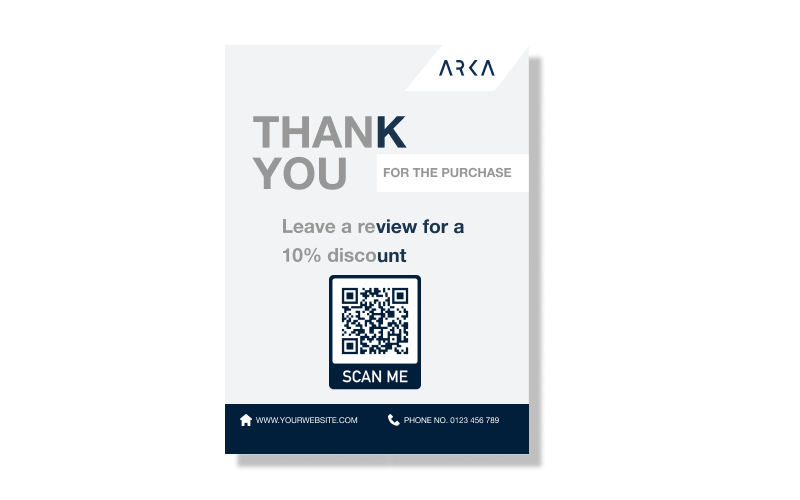 Packaging insert flyer.
You can use packaging inserts to incentivize people to leave a photo review in exchange for, for instance, a small discount on their next purchase. 
Simply print a flyer with a QR code that links to your chat flow. This way, people can scan the code, follow the conversation flow, and receive their discount straight in chat. If you don't want to add packaging inserts, you should consider printing the QR code on your box.
You may also like: Packaging 101: Everything You Need To Know To Choose The Best Packaging For You
Printing QR Codes on Custom Packaging
Arka lets you design and order custom boxes for your brand and business, as well as add accessories like custom tape, stickers, and tissue paper. 
This is the perfect way to ensure the unboxing experience contributes to your brand consistency and lets you truly amaze your customers. Catching them at this moment of pure satisfaction offers the perfect opportunity to ask one last favor. Using this most happiest of moments in the customer journey is bound to lead to more positive reviews.
Add a QR code on the inside of your packaging using the double-sided printing option in Arka's step-by-step design process. Leave clear instructions for the Arka design team to make sure your custom boxes turn out perfect. You can check Arka's custom mailer boxes or custom shipper boxes that ensure an amazing unboxing experience for customers!
Unless you have the resources to process all incoming photo reviews manually, you will want to let automation do all the heavy lifting. This means you will need to export or sync the incoming reviews to your CRM or social proof platforms.
Syncing Photo Review Data with Other Tools
Of course, you could go into every chat conversation to manually copy and paste every written review, rating, and photo. Preferably, you'll set up your photo review chat marketing campaign so that all incoming reviews are processed automatically. 
ShopPop makes it easy for you to set up filter presets that export data to Zapier when certain conditions are met. Zapier is a tool that lets you automatically move info between over 2000+ web apps, including Google Sheets, Mailchimp, Slack, Shopify, etc.

In this case, we would segment users who left a product review, photo review, as well as a product rating. Have all these custom fields been filled out by a user? Add them to a segment and let Zapier automatically export the data to, for instance, Google Sheets or your Pipedrive CRM.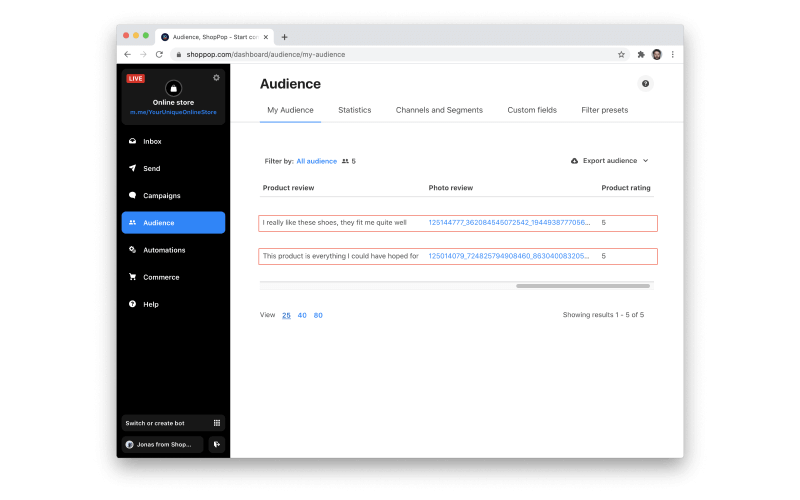 ShopPop's audience table including photo review data
You can even use Zapier to connect ShopPop to Gmail and automatically send a thank you email with a discount code to people that left a review, uploaded a photo, gave a rating, and left their email address. 
Best of all, the fact that all of this happens in a chat app means that customers open up a direct channel to your business for any further questions they might have. It's the perfect method to provide seamless post-purchase aftercare, which contributes to an even better customer experience.
Basically, using chat marketing to gather customer photo reviews will not only help you create social proof for your business. It also fosters customer loyalty and, by extension, customer retention, and recurring sales. How's that for a great unboxing experience?